Occasionally I run into some old or antique or vintage stuff . If you collect things you have to focus on a particular subject otherwise you become a hoarder. So i need to shed some old stuff now and then in order to avoid that.
While in the process of building this page, dont take it too seriously. There will be some nonsense temporarily.
Electro Harmonix Smallstone phaser V2
Clearing up old kit. Yes, this one is very old indeed.
Didnt look at it for at least 20 years,, as digital kit came on the market. I owned back in the seventies. The V2 is from arouond 1978.
I just tested it and actually I got confused whether to hang on or to sell. The sound is analog with a capital A, warm, lots of mojo.
You have to be careful, the power input is AC so dont put a DC Boss type adapter in.
The cover of the battery compartment has died and replace somewere in the prehistory by a DIY cover, but it works fine.
Functionally the device is really awsome. I may make a Yotube clip demonstrating the sound. The thing is built like a tank, will suffer lots of onstage abuse.
Its yours for around 100 Euros.
Or suggest a figure.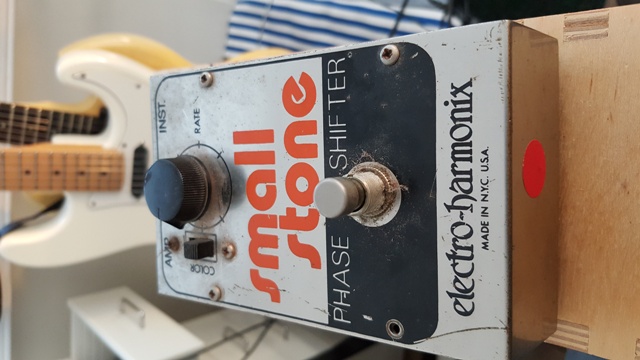 Old Dutch copperplate print (sixties)
A nice old print (sixties or thereabouts) showing the Ridderzaal, part of the midieval governent buildings in The Hague , Holland.
Frame original:
Size:
Artist:
Price: 75 euros, excl. shipping
Papua Dutch Nw Guinea fruitbowl
A Papua woodcarved fruitbowl. Dates back to somewhere between 1955 and 1963; with two carved wooden spoons..
Origin: Baliem ?
Price : 150 euros (excl. shipping)
Three KLM houses Delft Blue
Three houses, two still with Bols "jenever"
Numbers: 10, 16 and 28
.Price:
Shell history - 69 ballpoint pens
Here two ballpoints dating around 1969, just around the transition from te Bataafse Petroleum Mij to Shell
Price : 10 euros for the two (excl. shipping)
Antique captain's navigational ruler
A nautical ruler used by the captain of clipper "De Nachtegaal" somewhere between 1890 and 1905
Price : 150 Euros
Use the following form to send me an email, ask a question or order :
You are visitor: